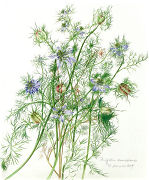 I'm no art critic. But I am a big sucker for botanical illustration.
I had a few minutes to check out the exhibition at the Mann Library Gallery of works by Ithaca artist milly acharya this afternoon. If you're in the area, go see them. If you're not, check out her gallery. (Delphine: allez voient) Click on the image at right for a larger view of one of my favorites.
Botanical illustration can be dry. But acharya's are filled with life. Plus, most of them are plants that I grow, as local plants are the focus of her work.
Another must-see at Mann: Chad Miller, one of our doctoral candidates in the Dept. of Horticulture will be giving a presentation on The Traveling Tulip this Sunday at noon. Be there or be square.